Do you want to straighten your teeth but want to avoid the look and inconvenience of traditional metal braces? If so, Invisalign aligners are what you need! One of Invisalign's most significant advantages is that it can be taken out when you eat or drink. However, this does not mean that your aligners can't get dirty. Keeping your aligners clean is a crucial part of your treatment since this is the only way you'll keep them transparent, odorless, and free from bacteria. Know that the lack of proper care and cleaning of your aligners can build up plaque deposits and bacteria that can erode your enamel.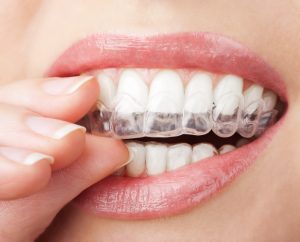 To help you get the best result from this orthodontic treatment, here are some tips on how to care for your Invisalign aligners. Read on to know what these tips are! 
The do's of Invisalign care
Rinse your Invisalign every time you take them out of your mouth. Make sure you rinse them thoroughly under running water. Doing this will clear away bacteria, saliva, and food debris. 

Soak your aligners regularly using Invisalign cleaning crystals. You can also use a cleaning solution provided by Invisalign or a retainer cleaner approved by your dentist for cleaning them. 

Make sure that you adequately clean your teeth for the key to proper care is not only clean aligners, but clean teeth as well. Make sure that you brush and floss your teeth regularly; this will prevent the build up of plaque and bacteria under the aligners.
The don'ts of Invisalign care
Don't consume food and beverages with staining properties that can affect your aligner and leave an unpleasant smell. Stick with drinking water while wearing Invisalign aligners.

Don't use toothpaste and colored or scented liquid soaps when cleaning your Invisalign aligners. Doing so can cause discoloration, leave a terrible taste in the mouth, and even damage your aligners due to certain ingredients.

Don't be careless with your aligners. If ever you take them off your mouth, place them in their respective cases. Doing this will prevent dangerous bacteria from building up in your aligners.

Achieve your dream smile with Invisalign Invisible Braces in Plymouth, MN. Book an appointment with us at Boger Dental for a high-quality service you deserve. Our dental office is located at 2720 Annapolis Cir. N. Suite-A, Plymouth, MN 55441.